Scotch Oakburn College progresses on Inquiry and Environmental Centre
An article from the Examiner Newspaper, Launceston, 5 July, 2023
Author: Declan Durrant
A planned $6 million dollar educational building at Scotch Oakburn College will progress in coming weeks as the school sends out a tender for the major construction project.
The Elphin Road college hopes to begin building the Inquiry and Environmental Centre at its junior campus later this year in the first step of its 15-year strategic plan.
The Centre – a building which will replace the College's current year five classrooms – is a "state of the art learning space" designed to "foster the essential life skills of creativity, critical thinking and collaboration".
Scotch Oakburn College principal Andy Muller said the school is extremely pleased to be moving forward on a project which has been in the pipeline for almost eight years.
"There's a great deal of excitement about this new environment and that's the excitement of a completely different sort of space for our junior school," Mr Muller said.
"This building, compared with our others, is like a learning tool itself, and that comes from its very environmentally conscious direction.
"The students will have access to the school's gardens and see how much energy the building is using, and that's just the start."
The two-storey building, standing at 9.2 metres tall, will be built beside the school's Claremont Gardens – a green play space – and connect to the already existing Scotch Oakburn Art Facility.
The lower level will house four classrooms and the upper two, with the building sitting "right in the heart of the school".
Mr Muller said the Centre will form a new link from the campus into the garden, and as such has been designed with "organic, low-environmental impact in mind".
"The focus on environmental sustainability is assisted by being near those gardens; it will allow us to teach the students about farming, water conservation and sustainable energy," he said.
"The Centre will be a place where learning and living with nature come together as an educational experience focused on ecology and the environment."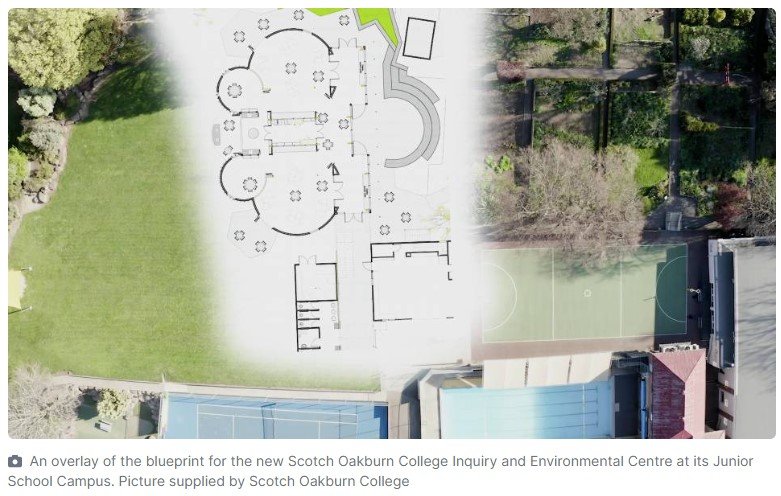 The building's design features recurring cylindrical shapes and rainwater catchment – a facet of its energy efficiency mindset, which includes solar and a construction process using renewable materials – and was designed by East Launceston architectural firm Birrelli Art Design Architecture.
"We are really excited about what the building is going to offer our kids and our teachers in terms of how they can teach," Mr Muller said.
Upon completion, the Inquiry and Environmental Centre will also free up the current year five classrooms – what Mr Muller called "somewhat cramped spaces" – and allow them to be used for either office space or potentially as a past student's museum.
"We have past students come through often, some from 50, 40 years ago, and what we hope we can do is put out all sorts of the photographs and memorabilia in those rooms," Mr Muller said.
"When they come back, they can travel back in time; from a community perspective for our school, that would be very special."
The planned build is the latest in a continued effort to expand the school's educational offering and a key focus of its 15-year strategic plan, an aspirational vision for upgrading the school's facilities.
After a successful tender applicant is chosen, the construction is expected to begin in the later stages of this year and be completed over a 10 month time frame.
Read the article on The Examiner website @ https://www.examiner.com.au/story/8259143/an-inside-look-at-a-major-school-development-in-launceston/