THE PEOPLE OF
SCOTCH OAKBURN COLLEGE
At Scotch Oakburn College, we firmly believe it's the people that make our College great. Their life experiences and the journey that has brought them to Scotch Oakburn influences the way they conduct themselves as they interact with students and parents alike. Quite simply, we like to think we inspire others to do remarkable things, helping them to reach their full potential.
We are pleased to introduce you to some of our amazing staff. We believe that collectively our teams of teachers, works and grounds crews and administrators are the best thinkers, creators, mentors and leaders in the business.
They all pack a passion for lifelong learning into every day and they aren't slowing down any time soon.
NEVER QUAVERING
Ben Marsland
DEPUTY PRINCIPAL / TEACHER
Aside from his part-time hustle as Deputy Principal at Scotch Oakburn College, Ben Marsland is a semi-proficient musician with a pedigree in Melbourne's alternative music scene.
In the heady days of Melbourne's music culture of the 1990s, Ben was ubiquitous behind the mixing desk or on stage in many of the city's iconic venues, including The Punters Club, The Tote, The Espy and The Corner Hotel.
Ben forged an enviable reputation as a no-frills talented live and recording engineer and as a rough and raucous tenor sax player on the Melbourne rock/blues scene, performing with the likes of Spoonful, Pete Murray, Tim Rogers, Ash Naylor and Mild Horses.
Ben has directed some of the country's most celebrated student ensembles and brings his love of music and learning to everything he does.
Prior to joining the Scotch Oakburn community and emigrating to Tasmania in 2021, Ben led a Year 9 residential campus in Victoria's beautiful Goldfields region and spent time working in Indigenous communities in The Kimberley region of Western Australia.
In his spare time, Ben tries to keep fit, rides motorcycles, produces music and enjoys exploring his new home state of Tasmania with his partner Catherine. Peg the cat and Murphy the naughty beagle-cross round out (rule) the household.
HELPING YOUNG MINDS BLOSSOM
Susie Bennett
TEACHER
'When not at work I enjoy gardening, cooking, walking, catching up with friends, but most of all spending time with my grandsons. They bring me so much joy'. We are excited to introduce you to Susie Bennett.
Susie is somewhat of an institution, whilst only relatively new to the Scotch Oakburn community. Susie is a thoroughbred within the education sector having taught at no less than seven schools (not including Scotch Oakburn). Highly respected and passionate are two words that come to mind when describing Susie. When talking to her, you observe her beaming smile and bubbly personality and it's easy to see her genuine passion and enthusiasm for what she does.
Growing up on the family farm at the foothills of Poatina, Susie developed a deep love for the country, animals and farming life. Far from the peaceful setting of Poatina, Susie and her husband enjoy travel. UK, France, Italy and the Greek Islands are some of her favourite destinations.
A clear love of sport was developed from a very early age through tennis and netball. As her children developed their own sporting passions, Susie's love for sport expanded to other involvement. Coaching, committees, canteen, social functions…you name it, Susie has done it.
Susie's love for teaching stretches well outside the classroom. Having taught swimming to many young children in her parents' pool, Susie often has comments from our community, telling her that she taught them swimming many years ago.
We are lucky to have Susie at Scotch Oakburn. We are very confident that her journey through life will shape and impact our earliest learners as they develop and grow.
LEARNING BY IMMERSION
Evie Chalk
TEACHER
If the jacket wasn't a giveaway, one of French, Humanities and English teacher Evie Chalk's passions is travel, and immersing herself in other cultures. Littered with more than 100 badges that represent the lasting connections Evie has made with people scattered all over the world, the jacket highlights her passion that grew from a 1-year sabbatical, living in France as part of a Rotary Youth Exchange.
Like our ethos, the purpose of the program was to help goodwill and understanding between countries.
When living in France, Evie took the opportunity to truly experience French culture by living with diverse families and having to adapt to attend high school. Whilst Evie spoke some French this certainly was a baptism of fire. It was through this rich experience, the friendships made with local French students along with other exchange students all around the world, that Evie has developed her cultural and global awareness and her passion for the French language. Evie has been fortunate enough to experience two exchanges, also studying in England while at Uni.
Outside global travel, Evie's other passion is music, specifically the violin. She is a member of the St Cecelia Chamber Orchestra and Launceston Philharmonic Orchestra.
Evie can be found in our Middle School, immersing students in language and learning, and encouraging them to follow their passions.
STAGING SUCCESS
Kathryn Gray
TEACHER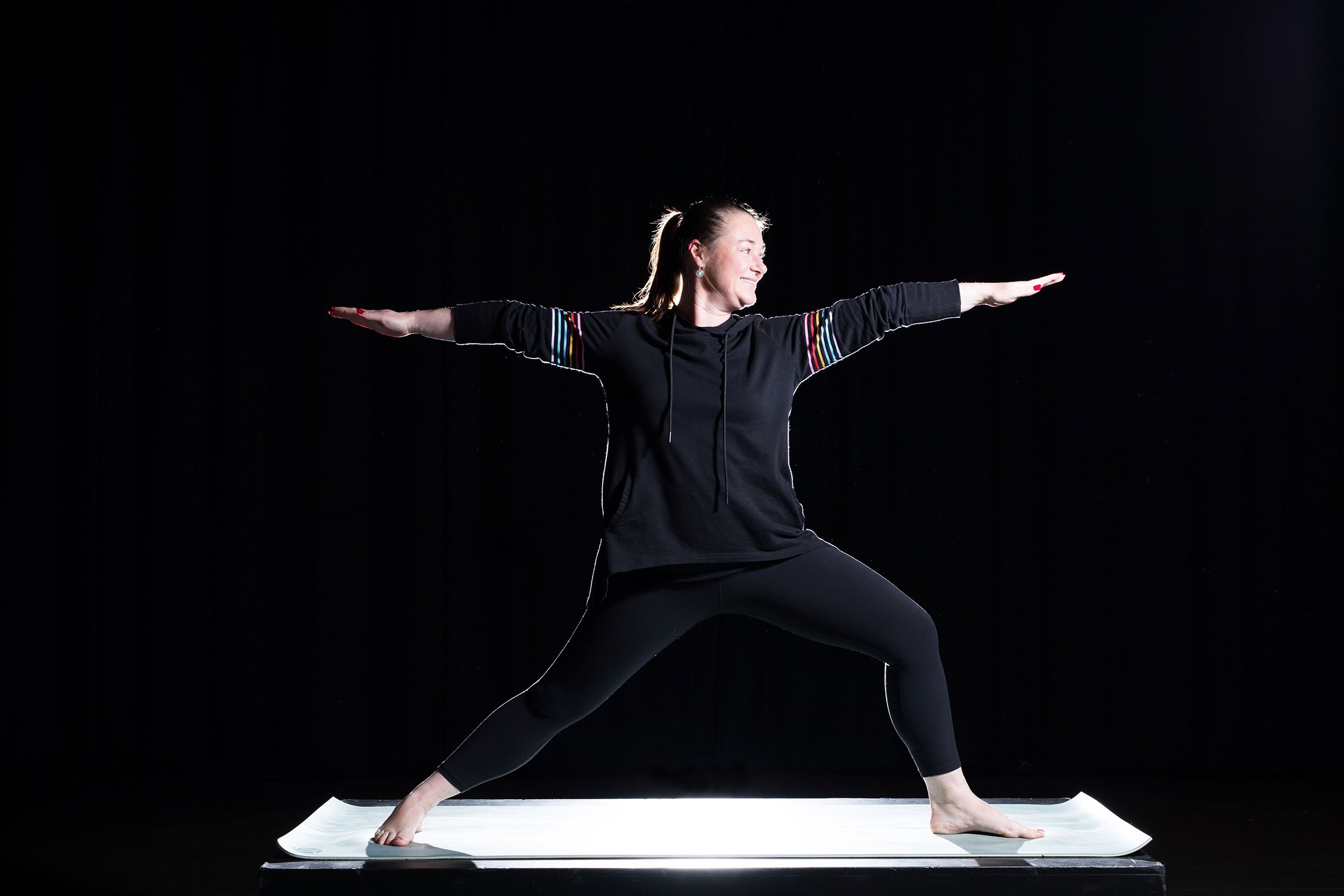 We all have passions, those things that motivate each of us to get up in the morning.
For Kathryn (fondly known as Kat) Gray, that is fitness. Before a time when gyms and boot camps were a fashion statement, accessible 24/7, Kat was nurturing and cultivating her passion for a healthy lifestyle in an industry that now appears on almost every corner.
When talking to Kat, it is easy to feel her passion for the industry when she talks you through her life journey. Picture this – an eager, energetic 17-year-old enters the fitness industry as an instructor who quickly progresses to coach, mentor and trainer for other instructors. A move to Melbourne further ignites the excitement. Along with instructing, Kat participates as a competitor in the International Natural Bodybuilding Association competition where she places a very impressive 2nd in Australia.
Not one to shy from a challenge, Kat starts her first small business (again in the fitness industry), with a vision and mission to train and assist people to live happy healthy lives through fitness and yoga. It is during this period that Kat receives her Bachelor of Performing Arts and a Bachelor of Teaching.
As it does, life throws its continuous challenges and in 2007 Kat was diagnosed with Hodgkin's Lymphoma which immediately halted her fitness training. After a long 16 months of Chemotherapy and Radiotherapy, Kat's body responded and she was back teaching and living her passion as a yoga teacher. In 2013 Kat was in 'complete remission'.
Kat has three beautiful children, Danial, Lachlan and Izabella. Danial and Izabella love music and dance with Lachlan finding his passion through soccer. Which isn't surprising given Kat's love for the arts and a healthy lifestyle.
Kat's tenacity and can-do attitude make it easy to understand why she's a favourite among her students and peers. She inspires people to embrace life, lead a healthy lifestyle and never give up.
BIG AIR ANDREW!
Andrew Richardson
BOARDING HOUSE CHEF
Big Hair and Big Air! This is how Collegian and Boarding House Head Chef, Andrew Richardson ('91) passionately tells his story.
Cast your mind back to the late '80s, the first space shuttle had lifted off, the Berlin Wall fell, punk rock was growing and rap music was just gaining momentum!
Inline skating was growing in popularity globally, and in Tasmania, this was being pioneered by Andrew and a group of talented individuals who simply fell in love with the sport. Known to his friends as 'Big Air Andrew' (synonymous for his gigantic 10ft ariel exploits) and sponsored by Coke, for the next four years Andrew and his mates would finetune their passion as they carted their mobile 10-foot halfpipe around the state attending every event they could. They were passionate, committed and had no choice but to be agile and without a doubt, courageous!
Relocating from the UK at a very early age, Andrew had the "dream life for a boy" as he grew up in the bush just north of Launceston.
After the harsh realisation that a professional inline skating career may not take off, he commenced his cooking career in the mid '90s, serving culinary delights in many restaurants around Launceston for the next 10 years. This is where Andrew developed his love for food.
Outside the kitchen, Andrew has a passion for the outdoors, having sat on the edge of an active volcano in Vanuatu, snorkelled with huge sea turtles in Papua New Guinea, Giant Trevalla in the Cook Islands and reef sharks on the Coral Coast of WA.
When talking with Andrew, you can instantly feel the emotion and passion he has for his role at the College. Preparing meals for about 70 students every day is rewarding. While Andrew doesn't have children himself, he claims each of the boarders as his (but he has the luxury of handing them back at the end of the day).
LIGHTING UP THE ROOM
Rebecca Ballard
TEACHER
Have you ever seen the Northern Lights?  Rebecca has, and the experience tops her list of travels, going right up into the arctic circle in Finland and risking snowmobiles up a mountain.
What else does Rebecca do in her spare time?  Perhaps a better question is what does Rebecca not do?
Travel and the outdoors are high on her list and Rebecca is constantly taking herself out of her comfort zone to see new parts of the world.  As well as Finland, she has journeyed through Japan, "done the South Island" of New Zealand in a camper and has also spent time closer to home, recently walking the Walls of Jerusalem National Park.
An avid gardener, Rebecca is currently designing the landscaping for her new home, which she has filled with indoor plants.
Her home is also often filled with the beautiful sounds of her own music, where her accomplishments are many. She plays piano and clarinet but is also a self-taught guitarist and has 'dabbled' with a flute, a French horn for a few years, and is now trying to learn a bit of cello. She currently coordinates a team of 40 musicians for a local church and has played in orchestras and jazz bands including St Joe's Big Band. She would love to join a new orchestra if you know of one!
But it is baking that takes the cake for Rebecca! When asked of her favourite recipe? "Oh, so many favourites!! Probably my absolute is a Spiced Caramel Mud Cake with rose water cream cheese frosting!" Her trademark decoration is fresh flowers and she loves any excuse for a celebratory cake.
You will find Rebecca in our Junior School, feeding staff with treats and teaching our younger students to have a go at everything that comes their way, just like she does.
WORLD CHAMPION TEACHER
Alister (Ali) Foot
TEACHER, HEALTH & PHYSICAL EDUCATION
Ali's story is one of commitment, dedication, sacrifice, success and a little controversy…
A 'Scotchie' through and through, Ali's journey began as a four-year-old in our Early Learning Centre in 1991 and continued through until his Year 12 graduation in 2005.
A highly decorated and celebrated rower, Ali's achievements include bronze medals at three World Cups, silver at the 2010 and 2013 World Championships, World Champion in 2011 and part of the 2012 London Olympics as a reserve for the Lightweight Four.
When in his peak, Ali would commit seven and a half hours per day every weekday and up to four hours a day on the weekend, often commuting to Hobart for intensive training.  Ali still manages to squeeze something in every day as he aspires to succeed in marathon running and ironman events, recently receiving his pro license and finishing seventh in his first pro race.
Enlisting the support of good mates and sporting thoroughbreds, Richie Porte and Will Clark you'll often find Ali rolling around the sidling or enjoying a coffee afterwards.
Not one to shy away from having a voice and standing up for what he believes in, Ali publicly slammed a controversial decision that left he and his team mates out of the 2016 Rio Olympic Games, even taking their appeal to an independent tribunal which was later thrown out.
We encourage all students at the College to have a voice and stand up for what they believe in. Understanding that, at times, life isn't all smooth sailing, if you get knocked down, dust yourself off and get straight back up.
In all Ali's spare time he works on Ben Lomond at the Foot family owned business, Ben Lomond Snow Sports, and coaches the College Open Girls rowing crew as well as the Seconds Boys football team.
Ali's amazing journey so far demonstrates the tenacity and commitment skills he teaches our students every day. A world champion leading by example.
ALWAYS GIVING
Robyn Ockerby
BOARDING HOUSE STUDENT SUPPORT
Think back. It's quite likely that over your childhood, you encountered some wonderfully influential people, perhaps someone who was like a mother figure to you. A second mum. Someone who helped you achieve your full potential, supported you in your endeavours and encouraged your dreams. Someone who just helped you find your socks! For our Boarding House students this someone is Robyn Ockerby, our Boarding House Student Support.
Robyn controls all the ins and outs of the Boarding House and is also the First Aid Officer for the Junior School, with many young students visiting 'Matron' for minor scrapes and serious conditions. But her patient and caring nature and passion to help people does not stop at our College gates, it overwhelmingly flows into the community.
Through personal experience (Robyn's third child Joel was born with Down Syndrome) Robyn
started a support group for families with a baby with Down Syndrome, after discovering there wasn't anything available for Northern Tasmanian families. Although experiencing challenges herself, Robyn's nature to always put others first drove her to start a morning tea group, which soon developed into what is now known as the Northern Tasmanian Down Syndrome Group. Robyn is also an active member of New Horizons Tasmania (NHT) who provide sport, recreational and social opportunities for local people with disability – with a focus on ability. She helps organise the social events for NHT, from high teas to balls.
Robyn's commitment to service and always putting others before herself is something we admire and traits we encourage our students to mirror. Our boarding students are very lucky to have such a caring soul to guide them.
HITTING ALL THE RIGHT NOTES
Andy Prideaux
TEACHER
If you have a spare hour, ask Andy about West Ham United FC – he's a Pom and a passionate fan.  Better yet, ask him in Spanish, he can speak that too.
Anything musical, you can count Andy in. He's a performer, singer, pianist and cellist and has toured the UK, Germany, France, Italy & America.  Before leaving the UK, Andy loved belting out Sinatra classics as 'a vocalist with a local big band'.
Andy has 'walked the boards' in many a production including playing Rapunzel's Prince in 'Into the Woods', Seymour in 'Little Shop of Horrors', Enjolras in 'Les Miserables' (twice!) and Pharaoh in 'Joseph and the Amazing Technicolor Dreamcoat', just to name a few.
With a Diploma in Musical Theatre Performance from the London College of Music, a Grade 8 in Classical Singing and a certification in professional piano moving (who knew that existed!), Andy worked in a music shop while striving for his next passion and getting his teaching degree.
As a Musical Director, Andy has worked on shows like 'Rent', 'Hairspray', 'Chess', 'Little Shop of Horrors', 'Aida', and 'Spamalot' in both community and professional theatre and is now the Executive Musical Director and a committee member for the Launceston Musical Society.  It's no wonder that he is fantastic at directing his class of young students every day, guiding them towards their own passions and challenging them to contribute.
Leading by example to always try something new, Andy has dived into all things tech this year immersing himself into robotics.  Is there a robot musical on the horizon?
OUR VERY OWN BEAR GRYLLS
Mark Hassell
DEAN OF STUDENTS
A – Caving in Peru, Mark helped map the deepest cave in South America.
B – A passion for blacksmithing also keeps Mark busy.
C – As a dog-sled guide, Mark completed a 400km trek along the Arctic coast.
D – Kayaking in Tibet, Mark explored previously unpaddled rivers.
Mark also worked as a dog-sled guide and successfully completed a 400km ski trip along the Arctic coast.
One of Mark's highlights was spending a month in Tibet on a kayaking expedition to paddle rivers that hadn't been paddled before, along with backpacking and cycling through Thailand, Cambodia and Vietnam.
In Mark's spare time he does a bit of long-distance swimming, with a couple of highlights being a 12km lake swim in Canada, and an 11km ocean swim from Bondi Beach through the heads of Sydney Harbour to Watson's Bay. He also loves to spend time blacksmithing.
With a passion for bush survival, Mark runs the Year 10 survival program for Education Outdoors and as the Senior School Round Square Coordinator, is extremely passionate about Round Square and its IDEALS.
Meet Mark and more amazing people like him.
THE PERFECT JUGGLING ACT
Nardia Deverell
COMMUNITY LIAISON COORDINATOR
We would like you to meet Nardia…but perhaps you already have?  Nardia is generally our first point of contact for people thinking about joining our community.  She can juggle many things in her very busy days and is still able to give you all the time you need to show you around and answer your questions. To cite the traditional duck analogy, you will always find her calm on the surface but paddling like mad underneath.
Life for Nardia is all about family.  Whether it is caring for her young daughter, assisting her husband with his business, or helping others with promotions and events, you will always find Nardia with a smile on her face.  Finding opportunity in every day has seen, amongst other things, the creation of No. 7 Candles.  Spending far too much money on candles, Nardia and her husband decided to make their own and you can now find these in retail stores around town.  
And still she finds time to give to the community. For the last 16 years Nardia has visited the children's ward at the hospital once a month to donate gifts and time.  It is something she enjoys doing with her daughter now, teaching the gift of giving.  They recently donated 80 pairs of gumboots so children who were feeling able could enjoy going outside while staying dry. She is also part of a planning team to sponsor a room at Ronald McDonald House in Hobart, providing a space for parents to sleep and recharge.   
Nardia's passion and enthusiasm for all she does rubs off on everyone with whom she comes into contact and our College is a happier and more positive environment as a result.  Being busy is what Nardia does, and we are very lucky that she does it well.  
Meet Nardia and more amazing people like her.
LIGHTS, CAMERA AND ALL ACTION
Katie Hill
PERFORMING ARTS CENTRE COORDINATOR
What do puppeteering, stand-up comedy, physical theatre performance and stage management all have in common? Scotch Oakburn's very own Katie Hill.
Katie has a love for helping students expand their learning and confidence through the Performing Arts. It's not often you'll see Katie on stage at one of Scotch Oakburn's many performances; rather, Katie is plying her extensive knowledge of technical theatre and design behind the scenes to ensure a 'performance spectacular'.
Whilst completing her Bachelor of Contemporary Arts in Theatre, Katie had the opportunity to study Wayang Kulit, a form of traditional Southeast Asian shadow puppetry. This new-found passion led her to complete her Honours focusing on blacklight puppetry, writing, designing, creating and directing the experimental ultra-violet puppetry piece, What's under Adam?. It's safe to say Katie is truly one of a kind, in no-one's shadow! 
It's not all spotlights and curtain calls for Katie…she enjoys the sportier side of life and loves playing soccer and Futsal. She can often be found kayaking with her partner and their adventurous (well-behaved) dog, Alfie.
Katie's passion and life experiences flow through to our students to create on-stage magic. The tangible skills she shares will remain with them for life.
Meet Katie and more amazing people like her.
FOR THE LOVE OF THE GAME
Naomie O'Loughlin
TEACHER
A – Signed Australian cricket team and George Bailey bats; part of Naomie's awards. B – 2011 Alan Border Medal Volunteer of the Year Tasmania Award.
Giving back is a trait that comes naturally to Naomie O'Loughlin having spent 14 years doing something she loves, coordinating, coaching and playing cricket. Starting in 2004 when teaching five to eight year olds the basics in a fun format, to more recently as a junior female coach and member a senior women's team, Naomie has always been passionate about the game.    
It's often said that volunteers do not necessarily have the time, but they have the heart. This is certainly the case with Naomie – she has been recognised twice at a national level for her contributions. In 2011 she was recognised for her work in the cricket community as the Tasmanian Volunteer award winner at the Alan Border Medal Awards, attending again in 2012, she was a member of the winning Tasmanian Milo In2Cricket centre.   
As a Round Square school, Naomie's passion for service to the community fits perfectly within the College ethos and the Round Square IDEALS. As a teacher, she is constantly giving her time to others and encouraging her students to follow their own passions. She certainly leads by example. 
Naomie says she has been very fortunate to meet and coach some talented players. We think perhaps the reverse may also be true! 
Meet Naomie and more amazing people like her.
LOVER OF ALL THINGS FISHY!
Miranda Creak
HR ADMINISTRATOR
If wearing a wetsuit every day sounds intriguing to you, then you certainly must meet HR Administrator, Miranda Creak.  
It must be said – when Miranda walks into a room it simply lights up. With a beaming smile and light-hearted nature, you can appreciate and understand her passion for marine conservation, her great love for the ocean and everything in it.
Having worked at Sea World for 16 years, conducting educational programs and tours to thousands of kids, it's easy to see how this love for education, sharing and helping others has now transferred through to Scotch Oakburn and its students! One of the oldest theatre adages is 'never work with children or animals'… well, Miranda has worked with both!  
Miranda has enjoyed many experiences including interacting with polar bears, sharks, stingrays, all types of fish, dolphins, seals, penguins and more, and feeding and training many different marine animals (some quite large). She is no stranger to getting her hands dirty, having spent hours shucking mussels, peeling prawns and cutting up fish for these amazing animals. Highlights of her time at Sea World include watching people's faces as they got 'up close and personal' with marine life, as well as swimming with nearly 100 stingrays during feeding time to ensure all had the opportunity to feed. 
It is traits like adventure, environmentalism, service, leadership, democracy and internationalism that people like Miranda empower our students to live, preparing them for life in ways that demand courage, generosity, imagination, principle and resolution. 
Meet Miranda and more amazing people like her.